Our Achievements and Awards
The Fastest Growing Seed Company in Africa, 2016 – AGRA
2. East African Agribusiness Award, Dec 2013
3. Jinja International Agricultural Show, July 2013
4. East African Grain Council-NGETTA ZARDI 2012
5. Installed (7-in-1) state-of-the art processing plant worth UGX. 270M
6. Annual Turn Over of 10,000MT Quality Certified Seeds
7. Utilising SAGE 50 Accounting Application
8. Number one supplier of NAADS, NUSAF3 and UNFAO-Juba.
9. Established seven branches to disseminate appropriate technologies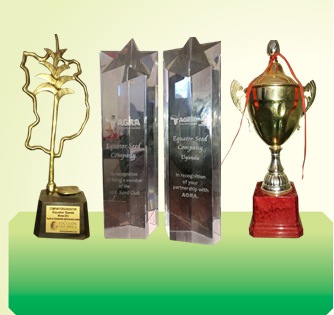 RECOGNISED FOR BEING A MEMBER OF THE 10K SEED CLUB
THE FASTES GROWING SEED COMPANY IN AFRICA 2016-AGRA
PRIME MINISTER DR.RUHAKANA RUGUNDA AT WORLD FOOD DAY CELEBRATIONS, OCTOMBER 2015
JINJA AGRICULTURE SHOW: VICE PRESIDENT SSEKANDI AND MINISTER SSEMPIJJA AT EQUATOR SEEDS LIMITEDS' OBSERVATION PLOT
EAST AFRICAN AGRI BUSINESS KAMPALA SERENA CENTRE DECEMBER 2013
Oil Seed                                             
---
Vegetables
---
Seedlings
---
Legumes
---
Cereals
Kiryandongo : Kigumba Town Council along Kampala – Gulu Highway.
---
Oyam: Minakulu A, Gulu-Kampala Highway
---
Gulu: Layibi, Kampala High way next to Umeme Transformer.
---
Soroti: Opuyu Trading Centre, Mbale Road
---
Kampala Industrial & Business Park: Namanve, after Roofings (U) Limited.
---
Kampala Office : 4th Floor, Mukwano Courts, Buganda Road, P. O. Box 36692, Kampala (U).